The boy must have been pretty bored the other day because he went looking for 'treasure' in the pool skimmers. What a goober. I saw him out there on his hands and knees and that's what I thought to myself, 'what a goober." What could he possibly be doing. He has NO interest in cleaning the pool.
Eh, I lost interest in the wondering and wandered away. Well, he came IN THE HOUSE with his jackpot. Good lord!
Just look at this thing...that..that...that was still ALIVE!!!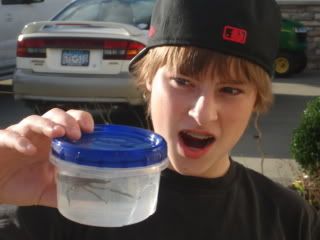 So, apparently it's a "toe biter" bug. lol. Ya think? The largest north american native bug.
We all had a good time with it then Forrest decided that his biology teacher might get a kick out of it. So he emailed her to make sure it would be ok to bring to class.
He's got himself a very cool teacher because not only did she know what it was, she brought in her (pet?) praying mantis so the classes could do comparative work on the bugs yesterday.
Today, Forrest came home to report that toe-biter is now their class mascot. The kids dug out an old aquarium from the school storage, scrubbed it all up, and set the bug in its new digs.
I couldn't be happier that the bug found a new home.
On to business....
My grand re-opening of The Wool Food Market is tomorrow (today for some of you) and I'm celebrating with a FREE give away. Please stop by, no strings, for a chance to win this play set...entries close at 3 pm eastern time.