Ever feel like this?

Restful Sundays are starting to feel a bit elusive around here. It seems that we, rather suddenly I might add, went from quiet and almost sedentary to "has anyone seen the week I just misplaced? "
Madison's little girl birthday party is today. She's in 5th grade and (obviously) was desperate for a slumber party. I nixed that. The drama that swirls around this age is rather profound and there was no way I was going to lay the ground work for failure. My girl wasn't going to end up in tears on her birthday, nor would someone else's.

So instead we will be taking the girls to the pool and pizza. Much more civilized, thank you very much. It's still a party, so that meant party favors. The best part. I've been wanting to make the delightful pencil bendies that Dannielle had on her site a while back (which I can't find right now) and finally got the chance to try my hand at it. Aren't they fun? I may have to make one for myself. I also made them some small zippy purses for.....I don't know what. ha. Do little girls need a reason for little zippy purses? I think not.
Look what Brian found in the tree today. Kiki the wonder cat. That tree is actually a "weed" that we allowed to flourish. Someone has told us that it is an elm tree, but with 3 trunks, we may have set it up for failure before it even really got going. One trunk in the cluster appears dead. That leaves us with just 2. Do we take it down to one, this late, and hope it rights itself or jerk it completely? I love that weed. I don't want to give it up yet so we'll see what spring brings. It's taller than all of the trees we paid and planted. Of course.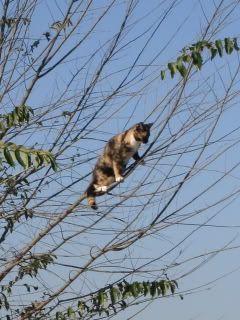 And just so today is completely jam packed, Dane has hockey. Which overlaps with the birthday party. Still working on that scheduling thing. lol. Yesterday was his first day on the ice with his team. He already learned how to skate backwards. One day he's wobbling and hobbling and the next he's skating backwards. To be a kid again.