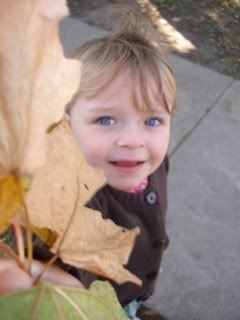 The forecast is rain mixed with snow. Or was it ice? Maybe it was freezing rain mized with snow. Does it really matter? My hibernation is coming and I'm not quite ready. So I linger on my favorite season before I tuck it away until next year.
Today was lovely and I was reminded again about how much joy fallen leaves brought to Augusta. We went to the children's school for the Halloween parade and while we waited on the sidewalk, gusty delighted in the gifts from above...literally. The fallen bounty of trees preparing for the arrival of jack frost.
In just a short time she made bouquets for all of us. She grew antenae....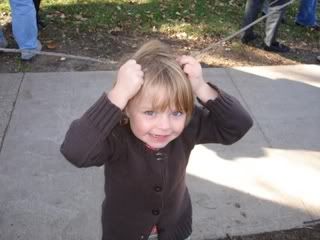 Then confirmed what we long suspected....out popped the horns.
Leaves, pinecones, and a couple of sticks. Kids really have it all figured out. Living and savoring the moment, in the moment.
I returned to work fulltime this week and I'm awash with mixed emotions. Missing my coffee drenched mornings with Brian and Gusty Bleu. Adjusting to the constraints and freedoms of the old "chair" again. Wondering if my skin will thicken up again for the 911 work. Filtering my ears to the politics that hover over a uniformed institution. Startled a bit that it's coming back so easily yet choking a bit after blowing off the dust.
My crafting has suffered and I'm behind. But still making progress. Like this little sweetie, that should be arriving at her destination any day now.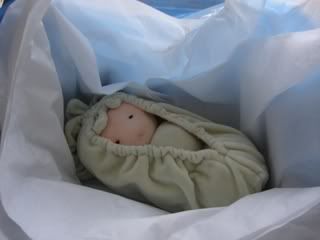 I can't help myself, I give all my babies a little nuzzle before I bundle them up and send them on to their new homes.
My real baby just crawled into my lap...I think I'll go now and nuzzle her up before she gets sprinkled by the sandman.