This wip has been resting in my head for some time now. I'm thrilled that it's finally coming to fruition and rather surprised at just how quickly it's coming together.
I *think* that rug hooking may be similar to the mindset of knitting. Of course, I can barely knit so I'm not for certain. But I do imagine that others get caught up in the "just one more row" negotiation. I do that with hooking. Just one more strip. Ok, maybe one more. All right....this is the last one then I HAVE to get up and get something else done. ha.
So here are the beginnings of Augusta's playscape....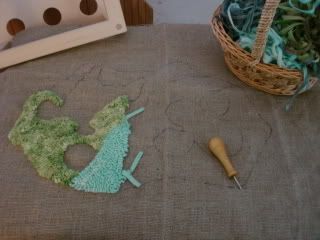 It's a free form edged scape that may or may not be attached to a wooden base when it's finished. I haven't decided yet for sure. The stump and large rock will be hollow for fairy homes. The stream, shore and green space should allow for little bendie feet to take root. So they MAY actually stand on their own. Certainly not a requirement, just an added bonus.
The secondary elements, jumping stones and birch tree are solid wool. Wet felted.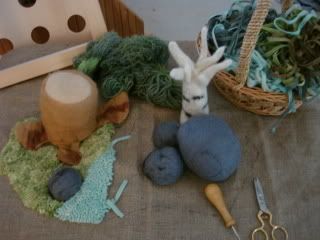 I'm hand-dying and hand cutting the strips. Never said I wasn't nuts. I don't have one of the schmancy strip cutters so I'm using a straight edge and rotary for now. Maybe a strip cutter will be in my near future. ha.
One more picture, on the frame.