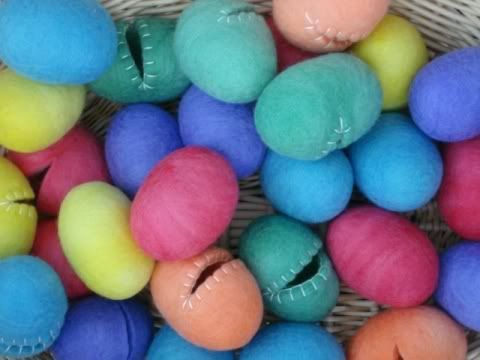 I'm working my way through my annual egg co-op and thought I'd share some of my progress.
For me, my favorite part of felting up the eggs is when they've just gotten their coat of roving. Piled high, like fluffly little clouds waiting on the rain. Gotta find a little romance when we're talking about 300+ little clouds. *wink*

Anyway, when I kettle dye, I tend not to mess with the pot once I add my vinegar. I love the subtle variegated rope of roving and love how it's captured in the eggs. Right before the eggs head for their water bath I wonder if the swirls and circles will hold. Sometimes they do, sometimes they dont.
The green in this instance is "wintergreen" and sitting like this, they look almost frosted..
Ok, enough daydreaming. Back to work. :o)