As you can see by the cake choice, I'm got myself a goof-ball. lol. I took nearly 3 dozen pictures during Forrest's birthday and every.single.time he purposefully made a goof-ball face. He'd wait for the beep-beep and just before the flash he'd go all spaz on me.
See what I have to work with here? I was lucky to get a single normal picture.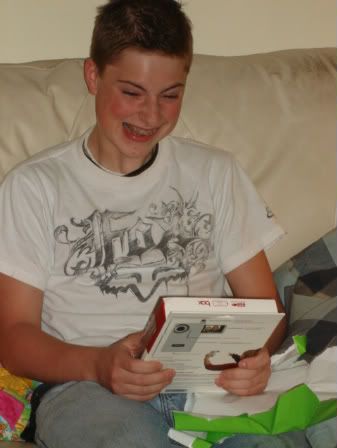 Admittedly, I wouldn't have him any other way. He really does crack me up.
Speaking of beep-beep sounds, I figured I should capture some pictures of my new girls before they grow up too. We've had them for just one week and they've already doubled in size.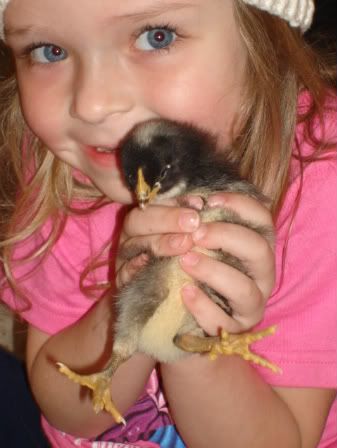 Gusty really loves our girls. I often find her sitting next to the little coop chatting it up. If she puts her feet on the side of the coop and moves them back and forth, she says they'll follow her feet. She's always ready to hold one and uses small sticks to flick debris from their water. For a four year old, I'd say she's moved past the novelty and into the long haul and I couldn't be happier.
We've only named 3 girls so far. Or rather, only 3 have given us their names.
Diva. Our little stand-offish gal that looks like she's wearing eyeliner.
Coco. The only completely brown araucana.
Esther. (pictured with gusty) The only barred-rock to make herself stand out. Her wing tips look like they were dipped in white paint and she stands on top of the water fount constantly. Look at me.look at me. You know, kind of like the girl on the beach, in a bikini, doing handstands.
7 more to go.