sore
–adjective
| | |
| --- | --- |
| 1. | physically painful or sensitive |
I sat here for several minutes trying to sum up this entry with one word.  I just kept coming back to sore. lol.  Nothing like jumping into spring with both feet and taxing every dormant winter muscle to get a girl going. ugh.
There's a lot to be done around the yard this year and I'm pleased to report that I've knocked down 3 projects and I'm well on my way to #4.
First, I needed to hook up the (new) porch to the (old) path.  I just didn't have it in me to lay another 2 ton of quarry rock,  so when Brian suggested a pea rock path, I immediately agreed.  I wanted to use up some materials we've had sitting behind the garage tho.  So I put on my best thinking cap and came up with what, I think, were some delightful (non-traditional) paths. 
This is before, I'm standing on the porch.
And the after...the red retaining wall blocks were from an abandoned project from several years ago and the terra pots were from the shop.  I can't believe there are still more.  Brian added some pavers to ease walking in the pea rock, but I didn't realize that my photo was pre-paver until just now.  I think you'll get the idea.  I'm having a great time filling up the pots.
Total cost: 112.00 for 4 yards of pea rock and I barely made a dent.  ugh. More left overs. lol.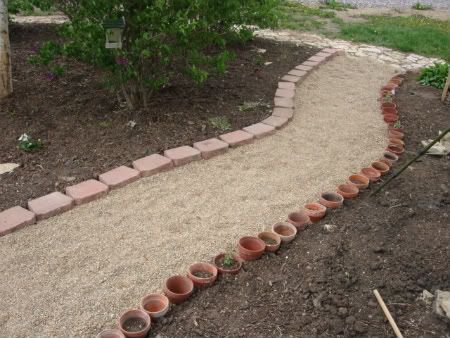 This next path was actually started about oh,  5 years ago. The cedar rounds are cut from a fallen red cedar tree from a construction site.  It was destined for a burn pile when I showed up with my pop and a chain saw.  I lugged those logs home and kept them for various uses over the years.  Then last year, I asked my pop to cut them into 6 inch "bricks". 
I used cardboard (which will be removed once the grass grows) to hold back the dirt and used some left over pea rock from project #1 to set the cedar bricks, , grey retaining wall blocks left over from front yard landscaping., tamp it all down.  In and out in 2 days.  It probably should have been 3 days but I get a bit obsessive. lol.  Total cost....zero.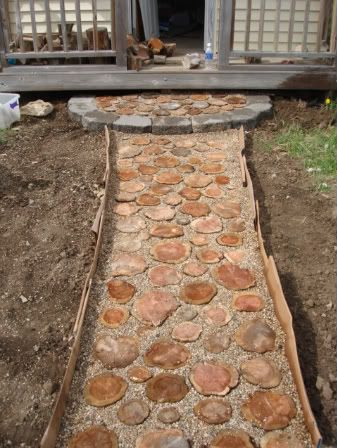 In between all of this I tidied up behind the garage so that I could get a real idea of what kind of materials we had to draw from.  No picture.  You'll just have to trust me that I got it done. lol. 
On to project #4...the chicken coop. 
Here's the floor. lol.  This will be almost entirely reharvested materials too.  Boy, there's a lot of stuff in the rafters of a garage.  Dane got his first wood working lesson in the middle of my carpentry follies too.  Double bonus.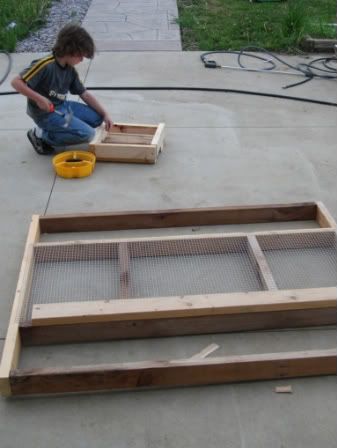 This project is getting my (nearly) undivided attention now.  As you can see, our girls have feathered out and it's time to move them out of the mudroom. :o)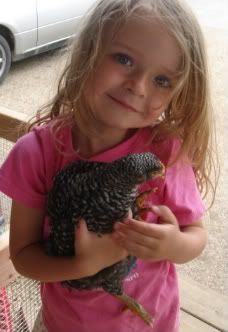 Ok, off for some aspirin and Deadliest Catch.  Thank goodness for tivo.