–noun, plural ver·min.
| | |
| --- | --- |
| 1. | noxious, objectionable, or disgusting animals collectively, esp. those of small size that appear commonly and are difficult to control, as flies, lice, bedbugs, cockroaches, mice, and rats. |
Seriously. Baby gophers? C'mon, work with me here.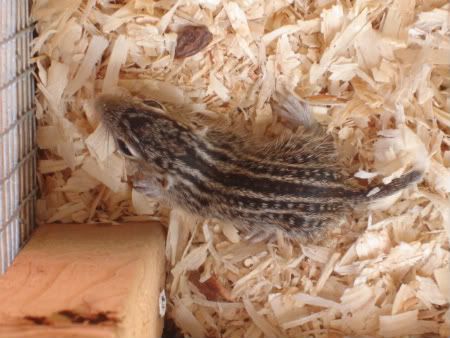 I was happily sewing along this afternoon when that was interrupted by a flurry of distant squeels mixed with words that included "baby chipmunk" "find a cage" "daddy saved it" .
Hmmm, better go investigate. There, over the always-at-the-ready aquarium on the porch, stood a weak-smiling husband, 3 children ready to explode with glee, a frantic lily-dog and VERMIN! Cute vermin and quite young vermin but still.....vermin.
Apparently there was a stand-off in the backyard between the skid loader and the dog. Lily, ever obedient, refused to move and dh had to climb out to investigate and there it was all sad and pathetic and well gee we have to save it.
I went out to the backyard to the scene of the crime and my first command (to lily dog) was find the babies....and my first question was "where are the cats?"
That's when we found VERMIN #2 being pursued by our cat. Gah!
Everything went blurry at that point but there was a huge cloud of hair and dirt between the dog and the cat. I had a cat in one hand for a short time before passing it to the nearest child...then in the the other hand I had a baby gopher, still alive and quite ticked off thank you very much. There was also something in there from Brian that included laughter and " look at master farmer, Alice Greenfingers, go!"
We'll keep them long enough to recover from the shock, then we'll release them so our lawn mower can take a beating later this summer and the cats, well they will be getting jingle-belled. tomorrow.
That, my friends, is how a lovely day of sewing gets shot to hell. lol.