Do you keep a nature table?  I used to.  I haven't for some time, but I'm inclined to again after Peggy sent me a picture of her nature table.
Isn't that fun?  A simple basket, filled with tactile goodies for little hands.
I can't wait to take Gusty out looking for treasure.  We'll probably pull on boots and head out first thing in the morning.  While at the park today, I saw that the pine cones are full and heavy on the tops of the pine trees.  Maybe we'll find some of our own.  I may have to head over to Auntie Heather's house and lift gusty over the fence for those big fat ones that look and smell delicious dipped in scented wax.
I love this time of year. lol. Can you tell?
Back to the little forests.  I agree with all of you that took the time to offer suggestions.  They *do* need something.  First and foremost, they needed animals.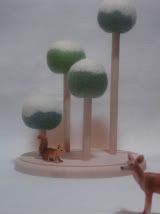 I've spent a good deal of time on line researching finishes too.  Paints and varnishes can be found in a variety of non-toxic recipes however, I wasn't comfy with the possibility that they would chip.  So, I moved on to penetrating oils. I went to home-depot and bought a food grade oil.   After I got home I realized that  while the front label assured me that it was food-grade safe, the back label wouldn't include the ingredients.  humph.  I was immediately annoyed. 
Knowing what I do about big corporations, their definition for food safe really isn't the same as my definition.  Or anyone's really. lol.  So back to The Google.  Some oils will go rancid, some are without a doubt toxic. Ok, moving on again.
Wax.  That will be my final answer, Regis. Beautiful beeswax based wood finish. Why I didn't think of it to begin with is beyond me. Sometimes the obvious isn't so obvious.  Anyway,it's on its way to me right now from Canada.  From a waldorf toy maker, of course.  I'll report back here with my results and share the source, if I'm pleased.